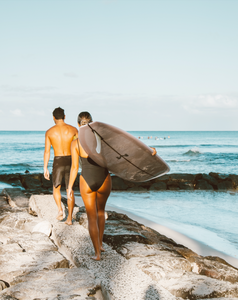 5 Surf Trips for Couples
Surf trips tend to be looked down upon by significant others who don't surf. To the outsider, even the ones we love, a surf trip is, at the very least, an enormous waste of time and money. The worst assumption about surf trips usually involves debauchery-heavy border runs, mass consumption of substances, and poor decision-making. The reality of most surf trips is that they're evenly split between time in the water and time in a hammock recovering. If you're significant other doesn't surf, you might feel like he or she is missing out on a large portion of your life. After all, surfing is a gateway to travel, art, and experiencing worldly cultures. If you're longing to share your passion for surf travel with your partner but are worried because they do not surf, continue reading below for 5 Surf Trips for Couples. 
Bali, Indonesia
We'll start the list with the most obvious surf trip for couples— Bali. The Island of the Gods is just one of over 17,000 islands in Indonesia, but its unique shape and position in the Indian Ocean form some of the best waves in the world. There's tons to do in Bali for you and your partner beyond the endless lefts of the Bukit Peninsula. Bali is a Hindu island with many of its religious practices influenced by its pre-Hindu indigenous belief system, making Bali one of the most spiritually diverse travel destinations. Bali is home to over 10,000 temples, with many of them perched on clifftops with scenic ocean views. Between the surf, the beach clubs, the yoga studios, and the temples, you and your partner will never run out of new experiences to enjoy together.
Sri Lanka
Sri Lanka is a teardrop-shaped island nation that sits just off the coast of India's southern tip. Like Bali, Sri Lanka is a highly religious island made up of Hindus, Muslims, Buddhists, and Christians. Once you get away from the hustle and bustle of the capital city of Colombo, the island reveals its true nature as a tropical paradise with cruisy waves, towering inland mountains, lush jungle, and ancient temples. With so much to do in and out of the water, Sri Lanka is an ideal surf trips for couples. Spend your days on the coast surfing, snorkeling, and whale watching, and your inland days on elephant safaris, mountain train rides, and breathtaking hikes. 
The Maldives
The Maldives is the island chain that stretches southward into the center of the Indian ocean just below Sri Lanka. The Maldives has 1,200 small islands flanked by lively coral reefs. Only 200 of the islands are inhabited, and many of the islands are home to luxury private resorts. The Maldives is one of the most romantic getaways a couple can take, whether they surf or not, so, of course, it makes our list of surf trips for couples. If you're looking for a classic relaxing vacation where your significant other can sit pool or beachside with a fruity drink while you score the waves of your life, look no further than the Maldives.
Central America
Photo Credit: Amaru Resort 
The surf-rich countries in Central America have been a go-to for North American travelers for decades. What was once a frontier of surf travel in the desert and the jungle is now one of the world's leading vacation destinations. Whether you're traveling to Costa Rica, Nicaragua, Panama, or elsewhere, your trip is what you make it. If you want to find an isolated corner of the coast, it's there. If you want to find a party scene, you don't have to look far. Surf travel in Central America is all about options. You can embrace the surfari and wave hunt for uncrowded peaks every day or stay at a luxury surf and yoga retreat. The choice is yours.
The Basque Country
Travel in the old country has an implied element of romance that's hard to shake, and the Basque Country is no different. Dare I say I prefer traveling through Europe with a significant than a surf buddy about 90% of the time. The Basque Country rounds out are list of surf trips for couples. The Basque Country is the border area between Southern France and Northern Spain that has its own language and cultural identity. The Basque people are a sea-faring people as their culture and cuisine would lead you to believe. The largest cities in the Basque Country are Biarritz, France, and San Sebastian, Spain. Both towns have a delightful blend of old-world architecture, stunning seaside topography, and the best red wine you'll find anywhere.
Regardless of what far corner of the globe you find yourself in, travel with the DritBag to ensure your surf crafts get there unharmed. The DirtBag is the world's most padded surfboard travel bag. Stay tuned to the DirtBag blog for more travel news, destination guides, and more.  
---