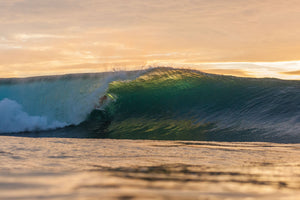 Central America's Must-Visit Surf Camps & Resorts
Summer is just around the corner, which means swell season in Central America is fast approaching. As the southern hemisphere begins producing consistent south swells, the draw of uncrowded peaks, warm water, world-class fishing, and ice-cold post-surf beers intensifies. Central America has been long been a favorite destination for American surfers and international backpackers because of its proximity, affordability, and, of course, wave quality. Beyond the surf, each country in the strip of land that connects North America to South America has charming culture, fascinating history, and exquisite cuisine that make each visit worthwhile. Costa Rica seems to draw the majority of traveling surfers these days, but every Central American country with a Pacific Coastline has its share of surf-trip-worthy waves. The team behind your favorite surfboard travel bag put together a list of our go-to spots in Central America. Continue reading below for Central America's Must-Visit Surf Camps & Resorts.
House of Somos (Costa Rica)
Lodge Style: Surf Camp Budget: Backpacker Friendly-Lux
House of Somos in Santa Teresa, Costa Rica, is a recently opened surf camp and resort founded by surfers for surfers. Started by surfer and shaper Forrest Minchinton, House of Somos combines surfing, custom motorcycles, expedition tours, quality food, stylish apparel, and lodging all under one roof. This Costa Rica surf camp is home to a local shaping bay that hosts a variety of resident shapers throughout the year. Of all the surf camps in Costa Rica, House of Somos does the best job of catering to all budgets, from backpackers to high rollers. Save your money and stay in their sleek dorm room, book a standard private, or splurge for a King Loft, either way, you'll have somewhere comfortable to rest your head at the end of a long surf day.
Amaru Wellness Resort (Nicaragua)
Lodging Style: All-Inclusive Surf and Yoga Resort Budget: Luxe
Located in Nicaragua, Amaru Wellbeing Resort sits perched on a seaside cliff overlooking the region's most-celebrated beach break. Amaru is a surf and yoga retreat space that strives to provide guests with a refuge from the hustle and bustle of daily life. Amaru is a place to be made whole through surfing, yoga, and other health and wellness practices. If you're looking for the perfect blend of health-conscious living and epic waves, Amaru is the spot for you.  
Beach Break Surf Camp (Panama)
Lodging Style: Hotel and Hostel / Vacation Rental Budget: Backpacker-friendly
A 5-hour winding drive from the towering high rises of Panama City will take you to a remote, south-facing cove on the country's Pacific coast. Beach Break Surf Camp was one of the first lodging options in Playa Venao, a beach with a wave for every level of surer. Since its inception, Beach Break Surf Camp has provided high-quality surf lessons and comfortable lodging right on the break at Playa Venao. Beach Break Surf Camp is also home to Playa Venao BJJ, one of Panama's finest BJJ establishments and a black belt-led gym. Train, surf, eat and sleep in comfort in a standard room, a dorm room, or Beach Breaks' brand new beach house rental.
Cocori Lodge (Guatemala)
Lodging Style: Hostel / Hotel Budge: Backpacker-friendly
Guatemala may not be the first country that comes to mind when you're searching for Central American surf camps, but perhaps it should be. The Guatemalan Pacific Coast is completely out of the shadow of the Galapagos and receives an enormous amount of south swell each year. The country's premier break is a stretch of beach in the small town of El Paredón. El Paredón is a sleepy beach town with dirt roads where things like AC and WIFI are hard to find. The team at Cocorí has built an oasis on the isolated coastline for surfers of all budgets to sleep, surf, eat, and party. There's no better place to be on the weekend than poolside at Cocorí lodge with a beer in your hand, waiting for the evening festivities to begin.
Gear up for your next surf trip to our favorite surf camps in resorts with a DirtBag, the most padded surfboard travel bag on the market. Our signature board bag will ensure you make it to your destination with your gear intact. Stay tuned to our Field Notes page for more travel news and updates.
---