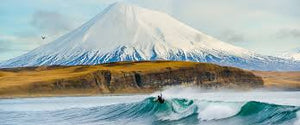 Cold Water Surfing 101: Everything You Need to Brave the Elements
Surf travel isn't what it was 50 years ago. Hell, surf travel isn't what it was 10 years ago. In the last decade or two, it seems all the blank spots on the collective surf map were filled. Remote tropical corners that once harbored the surfing world's best-kept secrets are now likely home to several wellness resorts and other modern convinces. While there may still be a few far-flung tropical corners where world-class waves break in relative isolation, most of the surf exploration left to do is taking place significantly further from the equator than the surf explorations and adventurers of the previous century. With most of the major swells that we surf at our home breaks and around the world originating close to the poles in freezing water, it's only logical that surfers would begin to look for waves closer to the origin of swell in uncharted territory. Both the West and East coasts of the United States are riddled with crowds, but as you work your way further north, the crowds dwindle, especially when temperatures plummet. If you're adventurous enough to head north and surf the Pacific Northwest or New England, continue reading below for Cold Water Surfing 101: Everything You Need to Take to Brave the Elements. 
Bundle up for your cold-water surf check
Image Credit: Teton Gravity
Cold water surfing forces you to brave the elements in and out of the water. Layer up for your surf check, and be sure you have a warm, dry set of clothes to change into when you get out of the water. Surfing in the northern reaches of either coast likely exposes you to a variety of weather conditions, from snow flurries in the winter to heavy spring and summer rains. Staying warm and dry outside of the water won't just keep you comfortable, it'll keep you safe and help avoid any post-surf hypothermia.
Go for premium neoprene
 Image Credit: Rip Curl 
When cold water surfing, spring for premium neoprene. Wetsuit technology is at a place where we can surf in glacial adjacent waves and be relatively comfortable, but not all wetsuits are created equal. When you're shopping for new neoprene for the season, keep in mind that you get what you pay for. Consider the temperature rating, the fit/ feel, and the performance aspects of the suit. Even the most flexible 5 mil wetsuits make it feel like you're paddling with resistance bands and ankle weights, so it's worth finding the best-performing model. After a few cold water surfs, you'll find that with the right suit, you can still suf at a high level. 
Gloves, Hood, and Booties are a must for cold water surfing
Image Credit: Clealine Surf 
Most 5/4 wetsuits come with a hood, which is vital to keeping warm in cold water surfing. In addition to the hood, gloves and booties should be worn when surfing in temperatures colder than 50° F. Booties get a bad rap in some surf communities, but when the temperatures drop, you won't last long in the water without them. Additionally, it's hard to perform in the water if you can't feel your feet. Booties also help keep your feet safe when accessing hard-to-reach, rocky breaks.
Warm-up sufficiently before cold water surfing
Image Credit: Evo Fitness 
When we surf in warm water or exercise on land in normal temperatures, all our old injuries and chronic aches eventually subside as we warm up into exercise. In cold water, the opposite is true. Once you're in the water, old injuries flare up, and your joints stiffen in response to the frigid temperatures. Before paddling out, warm up sufficiently if you're taking the plunge into cold water surfing.  
Surf within your limits
Surfing in lower temperatures takes a certain level of dedication and preparation. No one just decides to walk down to the beach and paddle out in the middle of winter. While cold water surfing is perfectly safe, the cold does add another variable that can compound dire circumstances in a very serious way. If you're surfing cold water, surf within your limits at waves you feel are best suited for your skill level.
The DirtBag makes cold water surfing easy and convenient with three storage compartments for your wetsuit, gloves, booties, fins, and leashes. The Dirtbag is the ultimate surf travel companion. If you're jetting off on a surf trip this summer or road tripping up to the remote northern surf breaks in the US, check out the DirtBag, the world's most padded surfboard travel bag.
---