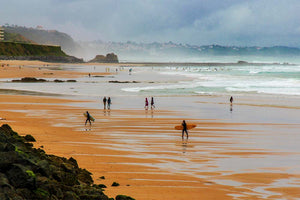 Convenient Europe Surf Trip Ideas
A surf trip to Europe is so much more than just a surf trip. It's a visit to the old world where history, art, and nature meet in force. It may be difficult to convince your significant other to tag along on a typical surf trip south of the border, but surf travel to Europe is an easy sell for most. Beyond the world-class waves that await you across the pond, there's also impeccable food, fine wine, ancient architecture, and so much more. Spend your mornings navigating lineups, your days wandering down cobblestone streets and through museums, and your evenings in charming cafes and pubs. If you're planning a surf trip, or better yet, if you're planning a trip to Europe and want to squeeze in a visit to some of the continent's best waves, continue reading below for 5 Convenient Europe Surf Trip Ideas.
Biarritz, France
Image Credit: Surf Atlas
Biarritz sits in the south of France on the Atlantic coast just before the Spanish border in an area known as the Basque Country. The Basque Country is an autonomous region within Northern Spain and Southern France with its own language, customs, culture, and cuisine. The Basque people are tied closely to the sea, so it's only fitting that some of Europe's best waves are located within its roughly 110-mile coastline. Biarritz is far more than just a surf destination; it is the epitome of the France beach experience. From swanky beach clubs to its wave-rich, cliffy coastline, a trip to Biarritz is worth the pond hop ten times over. If that wasn't enough, Biarritz is just a short drive away from Bordeaux, where you'll find some of the top red wine vineyards in the world.
San Sebastian, Spain
San Sebastian is just down the coast from Biarritz across the Spanish border. In addition to great waves, travelers in San Sebastian boast one of the finest cuisines in all of Spain. While you may be familiar with Tapas, the small dishes served with drinks in Spain, you've probably never heard them called Pintxos. Pintxos, pronounced pincho, are small, delicious snacks typically served in bars across northern Spain. After surfing waves like Mundaka, you'll be able to put away quite a few of them. It's easy to loop San Sebastian and Biarritz into one grand surf trip. Like Biarritz, San Sebastian is home to an elegant beach promenade with great food, shopping, and gorgeous architecture.
Ericeira, Portugal
Image Credit: La Point Surf Camps 
Ericeira is just a stone's throw from the Portuguese capital, Lisbon. Ericeira is also the Portuguese surf industry capital and is an official surfing World Heritage Site. There are seven breaks in town, each with its own distinct personality. If the swell is too big for the west-facing breaks in Ericeira, south-facing breaks in Lisbon and Cascais are just a short drive away. Compared to most cities in Europe, Ericeira is incredibly affordable. Short and long-term accommodation in Ericeira is more than budget-friendly, so it's the perfect location for an extended stay. The town is small yet charming. There's a bustling food and bar scene, cobblestone streets, and full of colorful architecture.
Hossegor, France
Image Credit: Surf-forecat.com 
Just north of Biarritz, the sandy stretch of Atlantic Coast in Hossegor is home to some of the best sand bar barrels on the planet. As a world tour stop, the quality of waves in Hossegor speaks for themselves. Beyond the mammoth beach break barrels, there are five additional nearby surf spots with something for every skill level. Outside of the water, Hossegor has everything you'd hope for in a quaint French beach community, with great seafood, fine wine, and delicious pastries.
Whether you're skipping across the pond to Europe for your next surf trip or just driving down to Baja, pack your boards in the Dirtbag to ensure their safe arrival. The Dirtbag is the most padded surfboard bag on the market and the ultimate travel companion. Head to our website to shop for your DirtBag today.
---