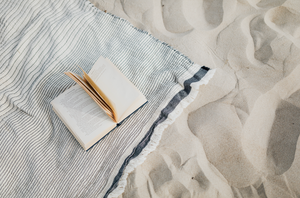 Surf Literature 101: Our Favorite Surf Books
Surfing is often misrepresented in the media and literature. Every so often, someone gets it right, and it usually has a transformative effect on the landscape of surfing. Take two seminal surf films, for example, Gidget (fiction) and Endless Summer (documentary). Both films took the nation by storm and brought surfing and the surf lifestyle to the forefront of pop culture. A good surf film is rare, and a good surf book may be twice as rare. Too often is surfing portrayed in cliché-ridden, campy storylines that don't have the technical accuracy. Rarely do filmmakers or authors nail the lingo, the culture, or the joy that surfing brings. When an author gets a surf book right, however, the results can be just as impactful, if not more so, than some of the greatest surf films. If you're looking for your next favorite book, continue reading below for Surf Literature 101: Our Favorite Surf Books.
 Barbarian Days- William Finnegan
William Finnegan writes about surfing like Ernest Hemingway writes about bullfighting. Whether a reader surfs or not, they will appreciate Finnegan's artful depiction of wave riding and the ocean as he reminisces on his childhood and early adulthood dedicated to surfing while living in California and Hawaii and traveling throughout the South Pacific. Unlike many authors in the surf genre, Finnegan is an award-winning journalist whose work at the New Yorker could not be further removed from surfing. For this entire career, Finnegan was a closeted surfer who spent his early years traveling the world and pioneering waves that are now household breaks. As Finnegan climbed the ranks as a journalist, he continued to surf, taking a quiver with him on assignment, retreating to wave-rich destinations to write, and chasing hurricane swells in New York.
In Search of Captain Zero- Allen Weisbecker
In Search of Captain Zero chronicles Allen Weisbecker's journey with his dog across Mexico and Central America as he searches for his lifelong surf buddy who fled south years ago. In his memoir, Weisbecker enthralls readers with tales of his days as a drug smuggler and details his encounters with Mexico and Central America's best waves. Weisbecker's journey is full of thoughtful reflection on his past life and an ample amount of heartbreak.
Let My People Go Surfing- Yvon Chouinard 
Patagonia founder Yvon Chouinard needs no introduction. The man has lived the life of ten men and accomplished more as an outdoorsman, a surfer, a climber, and a businessman than most can even fathom. Let My People Go Surfing isn't about surfing, per se, but rather about Chouinard's personal and Patagonia's business philosophy, which prioritizes employee happiness, community, and the outdoors. If you're going to read anything related to business, Let My People Go Surfing beats the hell out of whatever self-help business philosophy books are currently at the top of the NY Times Best Sellers list.
Swell: A Sailing Surfer's Voyage of Awakening- Liz Clark
Liz Clark and her cat set off from San Diego on her Boat, Swell, and spent ten years at the will of the trade winds going wherever the wind blows. In her memoir, Swell: A Sailing Surfer's Voyage of Awakening, Clark chronicles the successes and hardships of life at sea while drawing attention to some of the biggest environmental issues of our time. Clark's story is true adventure fuel for anyone looking for inspiration to take the leap on their next adventure.  
Surf is Where You Find it- Gerry Lopez
Gerry Lopez, AKA Mr. Pipeline, is one of surfing's more interesting characters. After mastering the world's most deadly wave, pioneering breaks in Indonesia, becoming a yoga master, starring in movies, and becoming a renowned shaper, the man moved to Bend, Oregon, to pursue a passion for snowboarding. In his memoir, Surf is Where You Find it, Lopez regales readers with tales of his triumphant past and sheds light on his Zen life philosophy that has kept him smiling and adventuring all these years.
When you're ready to take your own adventure that's worth writing about, pack your bags in the most padded surfboard travel bag on the market, the DirtBag. Stay tuned to the DirtBag blog for more surf and travel content.  
---