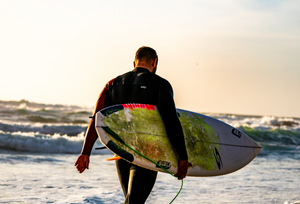 Surf Photography 101: How to Nail the Shot
Surfing is fleeting. The moments we paddle for out and even chase halfway around the world typically last between 5 and 30 seconds. We spend much more time prepping for surf trips and traveling than we do riding waves. Even our surf sessions are likely 50% paddling, 40% waiting, and, if we're lucky, 10% surfing. Surfing's fleeting nature makes surf photos highly coveted. Having a tangible reminder of your best wave of the trip is truly priceless. When the memory of your best wave and even your whole trip fades and blends in with all the others, a good surf photo will pull you back to that single moment in the water. If you want to start up a new side hustle or just want to make your friend's day when you capture their best wave, take up surf photography. Shooting waves isn't as easy as it seems. Everything about the surf, from the harsh sunlight to the constant motion in the water, makes taking a quality surf photo a challenge. Many traveling surfers shell out hundreds of dollars to professional surf photographers and action sports videographers. If you want to save some cash and impress your travel buddies on your next surf trip, continue reading below for Surf Photography 101: How to Nail the Shot.
Use the right equipment for surf photography 
If you're shooting from the beach or a boat in the lineup, you'll need a decent zoom lens. Depending on your photography needs, shop for a 70-200mm lens or a 100-400mm lens. If you're shooting from the water, you'll need a water housing and an 8-15m fisheye zoom/prime 16-35mm wide-angle, 24-70 mm zoom, or a 50 mm prime lens, depending on your style. As most armature surf photographers shoot from the shore, you'll likely need a quality zoom lens and tripod or monopod.
Consider the Rule of Thirds
In surf photography, the composition is everything. While it may be tempting to plant your subject in the center of the photograph, you're missing out on potentially interesting composition layouts that may reveal the surrounding beauty in the lineup. Most photographers across all disciplines abide by the Rule of Thirds. The Rule of Thirds splits any given photograph into three vertical thirds and states that a photographer should place their subject in one of the thirds.
Utilize high shutter speeds and shutter speed priority
Surf photography is all about capturing single moments and maneuvers. To best capture a surfer in stride, shoot at a high shutter speed to keep your images sharp and blur-free. Shutter speed refers to the amount of time the lens is open. The longer the lens is open, the more light the lens lets into the image. Longer shutter speeds are used to capture low light images and motion blur, like shooting a stary night sky or capturing a flowing waterfall. Short shutter speeds are used to capture motion in detail. So, if you're trying to photograph a backside cutback with every drop of water in focus, use a high shutter speed. Most modern cameras have a setting called shutter priority, which allows you to shoot at a high shutter speed that automatically adjusts based on the lighting of your subject. Shutter priority should be your default setting for surf photography if you're not shooting on manual.
Be mindful of the light
Surf photography and coastal photography more broadly require a certain level of attention to be paid to the time of day. Depending on the direction of the coast and the time of day, you're likely shooting with or against the light. Ideally, you want the light behind you to illuminate your subject, but that's not always the case. If you're shooting in harsh lighting or directly into the light, increasing your shutter speed can help you avoid an over-exposed image. Pay close attention to your camera's light meter to ensure your image is well lit. If you're shooting in exceptionally harsh light, as is often the case in surf photography, consider using a neutral density (ND) filter, which reduces the amount of light that passes through the camera's sensor.
Don't over edit
Editing should be the icing on the cake to your photographs. If an image isn't up to your standards without edits, over editing will only make it worse. Use editing as a tool to accentuate the positive qualities of the photograph, not add details that aren't there. Make colors pop and textures crisp, but don't sacrifice the quality of your photograph by overindulging in the editing process.
Pack your camera and all your surf trip essentials for your next adventure in the world's most protective and padded surfboard travel bag, the DirtBag. The DirtBag is the ultimate surf trip companion. Nothing is worse than unpacking your boards for your first surf abroad to find them damaged and dinged. Skip the bubble wrap and pipe insulator and use the DirtBag instead.
---