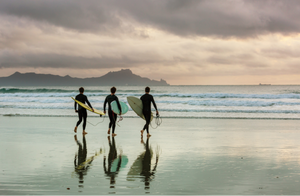 The DirtBag Supply Co. Surf Trip Bucket List
The Adventure
One of the great joys of surfing is traveling to unfamiliar places in pursuit of waves. Whether prowling the local area for a rideable corner or scanning google earth for that undiscovered wave, the search is always on. The possibilities for surf travel are endless. What is the perfect surf trip anyway? It ought to be different for everyone. To us at DirtBag Supply Co, the perfect surf trip consists of three things: 
Great waves

Potential for empty line ups

Beautiful scenery
Go The Extra Mile For Uncrowded Waves
When it comes to surf travel, why travel to a crowded lineup when you likely have one at your local spot? And if you don't live near the surf, why travel to a spot where your wave count will be limited by the crowds? We believe that it's worth it to seek out the paths less traveled, even if that means venturing into remote areas or spending a little more dough.
The List:
Surf Resort in Nicaragua 
Surf resorts (sometimes called surf camps) offer the most comfortable surf trip experience. At a good surf resort, surfing uncrowded waves will be the only thing you're focused on. Everything else will be taken care of: food, transportation, photography, and more. Sounds too good to be true? Well it's not cheap, but the benefits of staying at a surf resort are vast. 
Pros:
Three meals a day

Transportation to and from the airport 

Proximity to excellent surf

Surf photographers 

Day boat trips

Uncrowded lineups 
Cons:
Expensive 

Often located in remote areas 

Aside from day boat trips (if available) you likely won't be venturing outside of the resort 
Typically the lineups at surf resorts are uncrowded. You're likely to only surf with other guests of the resort. While controversial, this exclusivity will guarantee you many waves.  
Boat Trip in the Maldives
The boat trip is on every surfer's bucket list. Nothing's worse than planning a trip only for the swell to die off when you arrive. This won't be a problem on a surf boat. The chief benefit of the boat trip is the ability to chase down swell. A good captain will know where to find uncrowded waves, and will do everything in their power to put you on the best surf in the region. While boat trips are one of the more expensive options out there, they're your best bet if your top priority is to find a variety of great waves in a short period of time. 
Pros of a boat trip:
Ability to chase swell

Variety of waves

Three meals a day plus snacks

Transportation to and from the Airport
Cons:
Expensive 

Close quarters - pack the sea sickness pills

Possibility of crowded surf depending on the charter company 
Drive Down to Baja
This is one of our favorites. A true adventure. Load up the car with your buddies and venture down to Baja in search of waves. Be prepared for minimalist accommodations. If done right, sleeping in your board bag is not out of the question. 
Baja is often misunderstood as a lawless land plagued by violence. You're likely to have a smooth trip if you use common sense and avoid situations where trouble might find you. 
Don't drive at night or party into the early hours of the morning. We recommend having a car in Baja so that you can explore the various surf breaks. Make sure you get Mexican car insurance. And don't drink the tap water. 
You can get Mexican Car insurance here.
Pros:
Sense of adventure 

Great surf

Cheap
Cons:
The occasional anecdote of a traveler getting into trouble with the locals

Potential for crowded waves if you don't venture out into less popular surf spots

Lots of driving
Boat Trip in Alaska 
This is not for the faint of heart. Alaska is perhaps the last surfing frontier. Surfers willing to brave the cold and make the trip up north are likely to find waves never surfed before. Your boat captain will know exactly where to take you. The amount of unridden waves in Alaska are seemingly endless. 
On the flip side, it's the last frontier of surfing for a reason. It's cold. Interestingly, the water temperature in Alaska is similar to the water temperature in Northern California. So if you've surfed in a 5/4 before, you know exactly what to expect. But be prepared to surf in full cold weather gear: good gloves, booties, and a 5/4 wetsuit.
Pros:
Discover spots never surfed before (and name the wave yourself)

Beautiful Scenery

Food included

Ski or Snowboard in between surfs
Cons:
Check out this Alaskan Surf Boat Outfit
Surf the Longest Lefts in Peru
Chicama, Peru, known for hosting the longest left on the planet, is a classic point break. march-November is the best window to take advantage of the south and southwest swells that make this spot come alive. It's not uncommon to see 50+ waves advancing towards the bay. 
If long, perfect waves sound appealing to you, and you're not opposed to surfing in cold water, then Chile should be on your radar. 
Pros:
Some of the longest waves in the world

Cheap

Beautiful scenery
Cons:
Wetsuit required 

Somewhat remote 

Long point breaks mean long paddle outs after each ride (a good problem to have)
Perfect Barrels in Namibia
Recently brought to the mainstream of surfing, Namibia (most notably Skeleton Bay) boasts some of the longest barrels on the planet. April to October is the season for larger swells. November to March offers smaller swells. This spot is not for everyone, but if tubes are your thing, Namibia should be a top priority on your travel list. 
Pros:
Some of the longest barrels on the planet

Gorgeous desert landscape 

Cheap
Cons:
Complicated logistics 

Challenging wave

Remote location 
Explore the Indonesian Archipelago 
Indonesia is no stranger to surf trip bucket lists. Warm water, perfect waves, and beautiful landscapes attract surfers from around the globe. The downside? Crowds. Expect to encounter packed lineups in Bali. If you're up for the adventure, we recommend traveling to the less popular islands. In places like Sumatra and Sumba you're less likely to encounter crowds. And it's possible to find empty waves from time to time. Swells are consistently 6-12ft from March to November and 3-6ft throughout the rest of the year. If you give yourself enough time, we recommend at least two weeks, you're guaranteed to catch a solid swell.
Pros:
Cheap

Warm water

Great waves
Cons:
Potentially crowded, depending on where you go

Remote locations

Long travel times
Endless Options
The options are nearly infinite. To surf all of the epic waves in the world is close to impossible. Remember to set yourself up for success before you even leave home. Pack the right equipment. Study the waves you will be surfing and bring the right boards – bring a backup board if you can. Surfing familiar boards on an unfamiliar wave will give you the extra boost of confidence you need to thrive at a new spot. A protective surfboard travel bag will become your best friend on surf trips. Who knows, a good surfboard bag might even come in handy as an extra bed in extreme situations! Nevertheless, we hope you find this list helpful. If you have any questions, don't hesitate to send us an email.
---