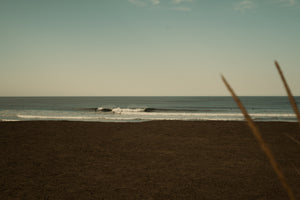 The Ultimate Surf Travel Gear Guide
Surf travel and surf travelers come in all different shapes and sizes. To some, surf travel is setting sail into the unknown with nautical charts and a quiver of trustee boards to find swell and adventure on the open sea. To others, surf travel is a once-a-year, weeklong vacation to Central America, Indonesia, or any of the other popular warm water swell magnets. Whether you're sailing around the world or jet-setting to a surf resort, you'll need gear you can rely on to get you and your boards through your next surf trip in one piece. The team at Dirtbag Supply Co has searched far and wide for the best travel gear in the business and put together the Ultimate Surf Travel Guide. Continue reading below to make sure you're prepared for your next surf trip.
The Most Padded Surfboard Travel Bag on the Market
The Dirtbag, our signature surfboard travel bag, is the most padded surfboard bag on the market with literal bomb-proof protection. Our Surfboard travel bag's convenient Universal Racking System allows you to strap your quiver to virtually any vehicle with built-in ratchet straps. With 25mm high-density EVA foam protection around the rails, 20mm PE foam protection along the rocker, and 10mm PE foam protection along the deck you'll never have to pack bubble wrap again. In addition to padding and the tear-resistant fabric, the bag features several large storage pockets perfect for wetsuits, fins, and other gear.
The Ultimate Travel Quiver
Be prepared for a variety of wave types that you may encounter on a surf trip with a well-rounded travel quiver. While the pros travel with dozens of boards in overstuffed coffins, all you really need is two to three trusted boards. The absolute must-have quiver items include a reliable, good wave shortboard that can surf well in the pocket and handle steep takeoffs. We recommend the Vinny Model by Solid Surfboards. The Vinny is a sleek high-performance model with a slightly wider nose and gradual entry rocker to allow for early entry into steeper waves. The next board you'll want to have in your travel quiver is a small wave groveler or a fish. We love the Throwback by Solid Surfboards for its classic swallowtail outline and ability to catch waves. If you want to push your limits on your next trip, pack a step up. Usually, a high-performance shortboard and a groveler/ fish will cover all your basis.
An All-Encompassing Ding Repair Kit
As most frequent surf travelers know, surfboards rarely make it through a trip without any scars. Whether it's from travel, a patch of shallow reef, or just careless handling, you'll likely suffer a few dings during your travels. Investing in an extensive ding repair kit with resin, q-cell filler, and cloth will ensure you're able to get back in the water when bad luck strikes. Make sure you get the right type of resin for your surf craft (poly vs. epoxy). We like the Ding All Ultra Clear Ding Repair Kit. The kit comes with everything you need to make professional quality repairs to your board.
Extra Fins and Leashes
Fins and leashes are likely causalities when charging in serious surf. It's always wise to pack an extra pair or two of your favorite go-to fins for when one inevitability collides with the reef or a shallow sand bar and pops out. Leashes aren't meant to last forever. If you can't remember when you bought your current leash(es), it's probably time to replace them. Bring a few extra in your board bag to make sure you can paddle out if one snaps. We love the gear from Naked Viking Surf. They Make pro-level fins at a fraction of the price of FCS or Futures.
A Well-Stocked First Aid Kit
Whether you're traveling down the coast to Baja or halfway around the world, you should always travel with a first aid kit. Infections strike fast when you surf with open wounds, especially in warm tropical water. Make sure you have a well-stocked first aid kit with antiseptic wound cleaner, triple antibiotic ointment, and plenty of bandages. If you want to avoid trips to the ER and stay in the water after a scrap with the reef, bring medical super glue and skip the stitches. We like the first aid kit from Surviveaware Small First Aid Kit.
Whether you're traveling near or far, the Dirtbag is the ultimate travel companion. Shop for your Dirtbag here.  
---